How a free VIN check for accidents and vehicle history report can save you from costly surprises when buying a used car. Best way to get started!
Are you considering purchasing a used vehicle? Before making a decision, it's crucial to perform a free VIN check on the vehicle you're interested in. A Vehicle Identification Number (VIN) acts as a unique identifier for each car. It holds valuable information about its history and specifications. A free VIN check service gives you vital details about the vehicle's background.
Is a Free VIN Check Accurate?
Well, many companies are offering a free VIN check or sometimes called a free VIN lookup but you have to be careful because the information is only limited to the following:
Ownership Cost
Market Value
Historical Sales Listings
Top Critical Owner Reviews
Expert Review
Safety Ratings
A more comprehensive VIN check allows you to delve deeper into the vehicle's history to get additional information. You can uncover previous ownership records and any potential title or registration issues. This allows you to make a complete informed buying decision. Ensuring you're aware of any potential red flags associated with the vehicle's past.
Free Vin Check for Accidents
When conducting a free VIN check, you'll gain access to various information. This includes the car's manufacturer, model, year of production, and country of origin. This data provides a solid foundation for understanding the vehicle's basic characteristics. It also helps verify its authenticity.
With online platforms and databases, accessing a free VIN check is very convenient. By entering the VIN into the NICB (National Insurance Crime Bureau) VIN check search tool to find any:
Theft Records
Total Loss & Salvage Records
The information included with a NICB VIN check free is helpful but is only limited to making a product decision and not a buying decision. Also, as with any VIN reports even paid ones the information, especially accident damage may not be correct.
This is because the owner or previous owners may have paid for body and paint repairs to the vehicle themselves (out of their pocket). Meaning they never claimed their insurance company.
So VIN accident check will not reflect this. This is why physically inspecting a used car is essential. You can check for vehicle recalls with the NHTSA (National Highway Traffic Safety Administration).
Is There a Free Vehicle History Report Using the VIN Number?
You may have heard of the Carfax free VIN check and wondering how you can obtain one. Unfortunately only if you're buying a used car from a dealer you usually get an Autocheck or Carfax vehicle history report free. But what if you're buying a used car from a private seller and you don't want to spend up to $40 or more for one full vehicle history report. Is there an alternative? Yes there is.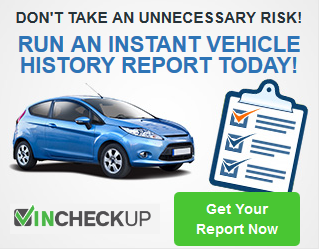 VinCheckUp is a Carfax and Autocheck alternative. If you don't want to pay $34.99 go to VinCheckUp and enter the VIN (17 characters), and click the "Search Vin" button and start with your free vehicle summary report and get important details about the vehicle your searching.
VinCheckUp gives you reliable and accurate information about the vehicle you own or want to buy because it sources the data from verified sources including, the National Motor Vehicle Titling Information System (NMVTIS) website, insurance companies, auction houses, DMVs, Federal institutions and public agencies to name a few. This is why comprehensive vehicle history reports are not free
So, apart from costing you less than the two dealership preferred options many people prefer it as one of the alternative options when buying a car privately or from car auctions because you can get discounts for more than one report like below.
What Do Complete Vehicle History Reports Using the Vehicle Identification Number Include?
Title Problem Checks
Open Lien Check (avoid title transfer headaches)
Odometer Readings (mileage rollback & tampering)
Taxi, Police Use (vehicle previously or currently registered as a taxi or police)
Accident Records (accident records from available independent sources)
Junk/Salvage/Insurance (lists junk, salvage, and insurance records (if any)
Vehicle Specifications (basic vehicle details encoded by the VIN)
Flood Check
+ More
In summary, you need a complete vehicle history report to make a well-informed buying decision.
Frequently Asked Questions (FAQ)
Why is VinCheckUp Cheap?
Because they purchase data in large quantities, they can extend the cost savings to their subscribers by providing discounted prices and substantial savings.
What Vehicles Can I Search for Using VINCheckUp?
Vehicle History Reports are accessible for vehicles, including cars, trucks, vans, RVs, and motorcycles manufactured after 1981 when the VIN standard was initially established.